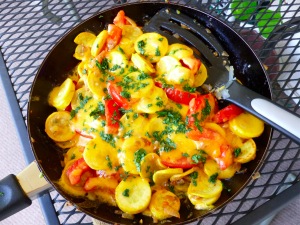 Zucchini on its own has precious little flavor but it excels as a vegetable medium for pulling together other flavors. This Mexican inspired dish is a fine example of this principle: garlic, onion, jalapeño pepper, cilantro, oregano, tomato, and cheese bring an exceptional medley of flavors to this dish.
The inspiration for this recipe comes from my dear friend Simona Mendez, a stellar cook. I remember walking through her front door and inquiring, "What in the world are you cooking? I can tell I got here just in time!" She led me to the kitchen, took the lid from a large skillet and introduced me to her family's favorite zucchini dish. It has been one of my favorites ever since. I'm sure you will feel the same.
Needless to say, using the freshest of ingredients improves the quality of your dish. I love picking the zucchini, tomatoes, and herbs just minutes before cooking. Simona's husband, Leon, always had a garden that included a few varieties of squash, along with tomatoes and peppers.
If you don't have a garden, try this recipe after returning from the farmers market. Use young, small zucchini — no more than five inches long. These little squash have better flavor and hold their shape after cooking. The over-grown zucchini are full of water and turn to mush in the same recipe.
I prefer roma tomatoes for this recipe. The romas hold their shape in cooking so the dish looks nicer. I go for flavor first, beauty second, and try to get them both when at all possible.
This recipe generously serves 4. Leftovers reheat very nicely.
Zucchini Saute Ingredients
1 medium onion, in a medium dice
2 cloves garlic, finely minced
2 tablespoons cooking oil of choice
6 small zucchini, sliced into rounds
Salt and pepper to taste
1 tablespoon minced cilantro
1 teaspoon oregano, dried or freshly minced
2 roma type tomatoes, cubed
1 jalapeño pepper, seeded and minced (add more or less depending on your preference for heat)
1 cup grated mild cheddar cheese or jack cheese
Zucchini Saute Steps
Heat the oil in a large skillet.
Saute the garlic for a few seconds then add the onion and saute until the onion just begins to turn translucent.
Add the sliced zucchini and salt and pepper. Toss to coat the zucchini with oil and to distribute the salt and pepper. Cook until the squash is cooked to your liking, stirring occasionally.
When the zucchini is about done, add the oregano, cilantro, jalapeño pepper and tomatoes. Toss to distribute the newcomers thoroughly in the zucchini mix.
Continue cooking for another 2 minutes then sprinkle the cheese over the top of the vegetables. Put on a good fitting lid and keep the heat on for another 2 minutes. Let the vegetables rest for another 5 minutes before removing the lid.
Garnish with fresh cilantro.
Related posts:
You might also enjoy: