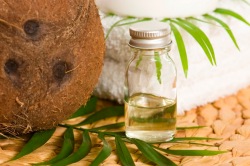 Coconut oil is an ever-increasingly popular ingredient in skin care and moisturizing soap products both because of its ability to moisturize and sink into the skin quickly. Coconut oil is a fairly dry oil which means that it is absorbed into the skin without leaving an oily residue.
In our household we have long used actual oil as a skin moisturizer — as opposed to relying on lotion and cream-type products. In mom's video review below, you will see that she has used various oils as a skin moisturizer for over thirty years. Recently she has begun to use coconut oil as an all-body moisturizer and on her face as well. I use skin oils during dry winter months and have used oils as facial moisturizer and a facial cleanser on-and-off over the last decade. Based on those experiences, we give coconut oil a "thumbs up" as a facial moisturizer, all-body moisturizer, and a skin cleanser.
Coconut Oil for Skin Cleansing
It may seem counter-intuitive to use oil to clean your skin, but coconut oil actually works well to clean and moisturize at the same time. In the video at right I talk about a time when I was away from home for two weeks without a facial cleanser and, rather than buying one locally, I used coconut oil for the two week period. My skin was better for it after those two weeks, using coconut oil to cleanse my face rather than an actual facial cleanser.
The Coconut Oil-Skin Cleansing Method
I use coconut oil as a facial cleanser while in the shower. It is a simple method:
At the beginning of the shower, wet your face with water.
Apply coconut oil to your face.
Massage the oil into your skin, rubbing in an upwards direction.
Allow the oil to sit on the skin for the rest of the shower.
At the end of the shower, wet a clean wash cloth and use the cloth to rub off any remaining oil from your skin, rubbing in an upward motion.
You can use this same basic method to moisturize the rest of your body while you are in the shower or bath.
You can even use coconut oil to remove eye makeup, but it will sting your eyes, so take care in your technique.
Coconut Oil For Face and Skin Moisturizing
For a more traditional approach to using coconut oil for skin moisturizing, you can apply it after your bath or shower. This is the method my mom describes in the video at right and has been her process for over thirty years. From the looks of her skin at 68 years old, it is hard to argue with her method.
Coconut oil is a dry oil and will sink in quickly, but if you wear makeup and are on a tight schedule showering, applying oil, and then makeup, you might want to use an oil on your face that is even more dry than coconut oil and sinks in more quickly without leaving an oily residue. In that case, this oil is our pick. Coconut oil will be a good bet for the rest of your body where you are not applying make-up. It is far cheaper to use as an all-body moisturizer than are most high-end skin care oils.
Where to Buy Coconut Oil For Your Skin
We use the same coconut oil for our skin care needs as we do in our kitchen. I go back-and-forth on how much money I should be spending on coconut oil, but there is an argument to be made for bellying up if you have the bucks when buying coconut oil. The best coconut oil may well be this one which I review in the video at right (or read the whole coconut oil review).
This oil is handcrafted by Filipino families using the same type of production method that Filipino families have used in their own kitchens over the centuries. It turns out that the method produces oil higher in antioxidants as well. Checkout out the story of how this method was introduced to the west. This method makes an excellent coconut oil for skin.
Enjoy your coconut oil!
Related posts:
You might also enjoy: