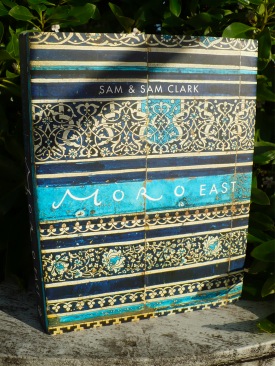 Have you ever prepared a meal and marveled at the flavors? Have you ever wanted to lick your plate clean? That is what happened today when I prepared a meal from Moro East by Sam and Sam Clark. (It is also in paperback here.)
This is not a cookbook to wow you with pictures. In this book you travel down paths unexplored. The seasonings are subtle and calculated precisely. Rarely do I follow a recipe as laid out but with Moro East, I do. I follow the instructions exactly the first time I make it because I want to experience what the Clarks have envisioned. They are magical with seasonings: Rich and complex, not overwhelming.
Bite into almost any dish to find the flavors of Morocco or Moorish Spain. This is the cuisine where the Clarks have staked their claim. Sam and Sam offer Mediterranean dishes that are not the usual. There are no cliches in this book.
Inspiration for this book comes from the Clarks' involvement in a London Allotment, a 100 year old community garden. Many of these gardeners are Turks and Cypriots who not only garden, but cook from the garden as well. Moro East is an intimate journey through some traditional cooking that you will want to make your own.
Transforming Basic Food
A sure sign of a great cook is his or her ability to transform a basic, everyday ingredient into a culinary experience. Today as we tasted the fried potatoes with cilantro from Moro East, Amanda and I looked at each other and said, "Who would ever believe?" The potato bites were succulent and bursting with flavor. Basic potatoes were transformed and served along with grilled chicken with zaatar. It was the best meal I have ever fixed and I have fixed hundreds of thousands of meals.
We had a similar experience with apples. For Christmas, I served the apple puree with creme fraiche and caramel from Moro East for dessert. The written recipe appears to be a glorified apple sauce until you taste it. Frederick (age 9) proclaimed it the best dessert he ever had. He actually licked his bowl. A basic apple became a memorable holiday dessert thanks to this great cookbook.
Good Enough to Follow the Recipes
If you get the book, I recommend you do what I did: Follow the recipes to the letter the first time around. I followed their roasted pumpkin soup with cinnamon exactly and thought this was a flop up until the last minute. Of the many winter squash and pumpkin soups I have made in my day, this one got top billing.
I would shower the Clarks with awards and kudos, but it seems they are waist-high in recognition since opening their Moro Restaurant in London in 1997. Try a few of their recipes and you will see why.
Related posts:
You might also enjoy: