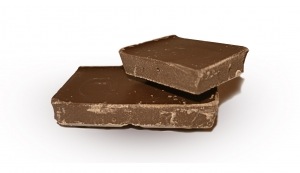 Probiotic chocolate combines two heavenly foods: high-quality chocolate and gut-restoring probiotics. It is hard to imagine a combination more appealing than "probiotic chocolate."
I have been primed to taste its goodness since learning about it some months back. It strikes me as a good product to introduce friends to the world of probiotics or perhaps even a good lunch time treat for our children. Before becoming a full-on probiotic chocolate groupie, I picked up some articles at a university library to help me understand its production.
Typical Probiotic Production
For those that know how to make probiotic foods, you may expect that you make probiotic chocolate by adding a culture to chocolate as it cools, wrapping it up in a chocolate wrapper, and packing it in a crate to send to the buyer. Most probiotic food has been made this way: Add a freeze dried culture to milk to make yogurt, pack it in a yogurt container, and get it to the store shelf. Use a kombucha "mother" or vinegar "mother" to make a cultured food and get it to the store shelf. Use salt and a lot of pounding along with cabbage to make a sauerkraut.
Culturing is a basic method of food preservation and it allows many of us to have inexpensive probiotic foods in our home all the time.
Probiotic Chocolate Production: Keeping the Probiotics Alive
For a food to be considered a "probiotic food" and marketed as such ("probiotic chocolate"), the actual probiotic bacteria must survive in the food in healthful amounts by the time you are consuming it. It turns out that a lot of the bacteria in probiotic supplements that are linked to improved health have a hard time surviving in food, particularly food that goes through a distribution process before it hits your palate.
Probiotic bacteria are sensitive and easily lost in their journey to your dinner table. The processing may be hard on the bacteria; the pH of the host food may be rough as well. As the market grows for functional foods such as probiotic chocolate, food scientists have had to develop creative ways to keep those bacteria alive. The method they have developed is a testament to food technology and actually was inspired by improvements in the field of biotechnology — the same scientists that bring you genetically-modified corn and beets.
Probiotic chocolate has been made possible by a technology called "microencapsulation." Scientists essentially enclose the bacteria in a small protective capsule that keeps them safe from the pH and other properties of the chocolate that might cause them to die off. The bacteria may be encapsulated in an algae-based micro-capsule, for instance, so that it can survive until it becomes dessert in your house.
The fat in the cocoa butter helps the probiotic bacteria as well. Some probiotic chocolates may include Omega 3 from flax seed to help protect the probiotic bacteria. These are all brought together in a way so impressive that the chocolate still tastes like chocolate.
Should We Eat Probiotic Chocolate?
As it turns out, the combination of probiotics with chocolate goodness is not a God-given food at all. The product is made possible only by advances in food science. Some people who oppose food technology altogether will see probiotic chocolate as a bit devilish.
Probiotic chocolate may have a purpose: If a child will not take a probiotic supplement and has recently had a course of antibiotics, this may be a good tool, assuming the substance used to encapsulate the bacteria fits with your dietary choices.
However, as a daily addition to a school lunch box, I give probiotic chocolate a "thumbs-down."
There are less expensive high-quality chocolate treats when you must have chocolate. There are many cultured beverages and foods that would make a great addition to lunch box: dairy kefir, kombucha, yogurt drinks, and my lunch-time favorite, water kefir. You can always take a probiotic supplement instead for a daily dose of probiotics.
I take my hat off to the food scientists who have found a creative way to bring more probiotic foods to the market. Some companies will make a lot of money as a result.
Here at the Traditional Foods site, however, I have to ask: Why?
~~~
Further Reading on Probiotic Chocolate
S. Possemiers, M. Marzorati, W. Verstraete, T. Van de Wiele, Bacteria and chocolate: A successful combination for probiotic delivery, International Journal of Food Microbiology, Volume 141, Issues 1-2, 30 June 2010, Pages 97-103. Full text.
J Burgain, C Gaiani, M Linder, J Scher, Encapsulation of probiotic living cells : From laboratory scale to industrial applications. Journal of Food Engineering (2011) Volume: 104, Issue: 4, Pages: 467-483. Abstract and preview.
Related posts:
You might also enjoy: