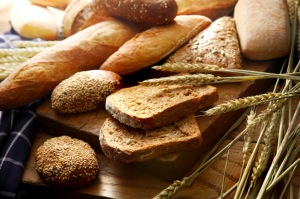 Many consumers are interested in soaking grains to improve their absorption of minerals, inspired by the popular cookbook Nourishing Traditions. Soaking grains absolutely works to reduce phytic acid in food, but the devil is in the details and, sometimes, the details that you discover in the depths of a library, will set you free. We have been set free here in our traditional foods kitchen and you may find yourself set free as well.
The Rise Of Soaked Grain Breads
Soaking grains to improve your absorption of minerals is a popular food preparation technique among lovers of traditional foods, a practice made popular by Sally Fallon in her book Nourishing Traditions. Fallon was wise to find this large area of food science on the issue of phytic acid, a substance in the grain that inhibits absorption of minerals.
Fallon discovered research that showed that if grains are soaked in an acidic medium, phytic acid will be reduced and the minerals in the grains will be unlocked so that you can benefit from them.
Her discovery led to her recommendation to soak grains for hot breakfast cereals and in bread making. She provides a number of recipes that are adaptations of quick bread recipes in which the flour is soaked in advance of putting the rest of the recipe together. She recommends soaking the flour in warm water with an acid medium such as yogurt or kefir.
Her recommendations have spawned some heroic efforts at creating "soaked grain bread," a type of bread that is new to the human culinary experience. One of the best first well-known efforts was Sue Gregg's blender recipes for soaked grain breads. I consider the adaptations to be "heroic" because there are far easier, tastier, and traditional approaches to baking bread. Anyone who has created a soaked grain bread recipe that tastes good is an exceptional baker and my hat goes off to her (or him).
The Devil In The Soaking
There is over 80 years of research now in university libraries on the topic of reducing phytic acid in grains. The literature is voluminous. One problem with scientific literature this big and non-experts (like me) taking a peek into them is that we do not always have the bigger picture while we are peeking.
It is true that an acid medium will break down phytic acid — the acidity of the soaking medium is one of the key factors in reducing phytic acid.
What we have not appreciated is that not all acidic soaking media are equal. In fact, I did not really discover this issue until I started delving more deeply into the issue of iron for the iron rich foods website. Iron interacts with calcium and so I became interested in how calcium in bread dough affects iron absorption.
It turns out that calcium in dough does affect iron absorption but it also impacts the break down of phytic acid. If you add a calcium food (such as milk, yogurt. kefir, whey, or buttermilk) to your dough or your soaking breakfast cereal, you may actually be inhibiting the breakdown of phytic acid or at least not encouraging the breakdown. (Check out one study.)
(If you have made your children eat soggy soaked bread or sour oatmeal I want you to walk into your kitchen right now and get a beer. Go on.)
Soaking flour does work and soaking in an acidic medium is optimal for the break down of phytic acid. However, adding yogurt, kefir, or whey to your soaked flour is actually worse than soaking the flour in plain warm water because of the calcium content of those foods.
My point in telling you this is to set you free from recipes you do not like that you are trying to make work in your kitchen.
There are many ways to skin the proverbial phytic acid cat and those ways are easier and taste better. This is really great news for our kitchens.
What's A Girl To Do About Soaking Grains?
In the phytic acid paper and video course I discuss the results of many types of bread-making techniques and their effectiveness in breaking down phytic acid. In the context of the "soaked grain bread" and in the spirit of making life easier (not harder), I offer some common sense solutions I use in my own kitchen:
If you like the recipe and you are not severely mineral deficient, keep on using it. Milk and fermented milk are necessary in some recipes to improve the moisture of the bread. Opt for fermented dairy products in this case.
If you have struggled to bake soaked grain breads and have never really adapted to the ritual, forget about it. Embrace sourdough baking, the traditional bread making technique that has been vindicated by science as a phytic acid reducer.
If you do not like to bake and wonder what you should buy, opt for sourdough bread. Check the label to make sure it has a starter in it to be sure.
In terms of soaking grains for breakfast cereal, I personally use warm water and on occasion, a complementary grain like rye (as I describe in the case of oatmeal and phytic acid at the Rebuild Blog). The sour breakfast cereal days are long gone around here. I am more popular among my children. My hot cereal has less phytic acid than it used to. Soaking grains doesn't really get better than that.
Soaking Grains Woes
In general, if you find yourself overwhelmed and frustrated by the issue of soaking grains, having gone through it all myself, I would suggest that you take a break on the topic and come back to it later. There are so many things we can all change in our kitchens to make healthier foods for our family and, unless you really eat a lot of grains, this issue may not be the most important. When it makes it to the top of your list, the easiest approach for bread is simply to learn sourdough baking. If you are an information junkie, you might also consider spending a few bucks on my phytic acid paper and the video course where I detail research on various breads, beans, nuts, and seeds and describe the simple methods I use in my own kitchen.
One reader commented on this issue of hassle in the kitchen:
"Dr. Rose's easygoing real-life kitchen approach has disarmed my excuse that it's "too much work"—to the contrary, I learned that soaking my grains makes breakfast faster and less hassle in the morning! Excellent scientific study provides the substance, but a "little of this and a pinch of that" methodology provides the inspiration to adopt these simple food preparation practices into my already-busy life. I'm now providing better nutrition for my family while saving time over the stove top!"
Chaya at Pantry Paratus, Inc.
Easier, Not Harder
I am extremely lucky in that I share my kitchen with a woman who knows how to cook and who also happens to be my mother. Many years ago she shook her head at my "fussing" over oatmeal souring in a mason jar and she said to me, "You do know that it is important for your digestion that you enjoy your food."
Indeed, getting caught up in food minutiae while trying to be nourished by that same food is likely counterproductive.
As the years have marched on, my mom's cooking wisdom and my interest in food science have found a nice meeting ground and we have worked to create systems in our own kitchen that are easier and healthier without adding stress and pressure to our lives that are already filled with the same. That philosophy has inspired a re-write of the Phytic Acid White Paper and video course. If you have purchased it in the past, I will be sending you an update. I hope you enjoy it.
This post was shared at Melt in Your Mouth Monday, My Meatless Mondays, Meet Me Monday, Marvelously Messy, Market Yourself Monday, Motivate Me Monday, Monday Mania, Making Monday Marvelous, Mingle Monday, Mangia Mondays, unk of Meat Monday, A Southern Fairy Tale, Homestead Barn Hop, More the Merrier Monday, Make Your Own Monday, Get Your Craft On, Made With Love Monday, Fat Tuesday, Tuesday at the Table, Tasty Tuesday, Slightly Indulgent Tuesday, Nifty Thrifty Tuesday, Tutorial Tuesday, Titus Tuesday, Tempt My Tummy Tuesday, Mama Diane, Traditional Tuesday, Living Green, Today's Creative Blog, Hearth and Soul Blog Hop, Frugal Tuesday, Rook No 17, Tuesday Time Out, Tuesday Thankful Homemaker, Show Me What Ya Got, Domestically Divine Tuesday, Traditional Tuesday, Traditional Tuesday, Penny Pinching Party, Works for Me Wednesday, Women Living Well, Wow Me Wednesday, What I Whipped Up Wednesday, Recipe Box, Your Whims Wednesday, Gluten Free Wednesday, Whole Foods Wednesday, What's Cooking Wednesday, Healthy 2Day Wednesday, Allergy Free Wednesday, Gluten Free Wednesday, Frugal Days Sustainable Ways, Real Food Wednesday, Tuesday Confessional, Wildcrafting Wednesday, Whole Foods Wednesday, Whatever Goes Wednesday, Homemaking Link Up, Creative Juice, Full Plate Thursday, DIY Thrifty Thursday, Show Off Your Stuff, Swanky Stuff, Frugal Thursday, Delightfully Inspiring Thursday, It's A Keeper Thursday, Simple Lives Thursday, Pennywise Platter Thursday, Your Green Resource, Your Green Resource, Cooking Thursday, Promote Yourself Thursday, Making it with Allie, Catch a Glimpse Party,