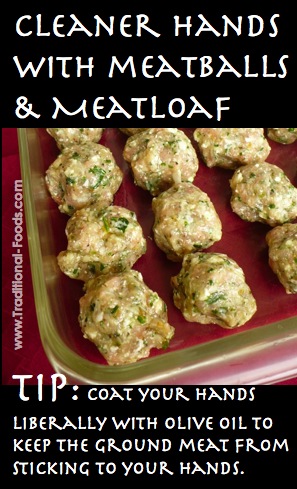 It has taken about three thousand meatloaves and tens of thousands of meatballs for me to land on a great meatloaf tip for you.
Have you ever felt like the sticky fat residue on your hands from mixing up meatballs or meatloaf wouldn't wash off? Ugh! Those days are over!
TIP: To keep the ground meat from sticking to your hands when making meatballs or meatloaf, first coat your hands liberally with olive oil.
Probably any oil will suffice. Olive oil is what is most easily at hand on my counter top.
After making how many thousands of meatballs, how did I not know this? Frankly, I had not oiled the baking pan before for meatballs or meatloaf. The meat itself contains so much fat that I do not add any to the meat. Yesterday I was making meatballs for the first time with lean ground chicken. That is a whole new ballgame you say.
I did all the mixing of ingredients with my right hand. When ready to form the meatballs I thought it wise to oil the baking pan. With my left hand I smeared the olive oil to cover the glass bottom. Now I had one oiled hand and one un-oiled hand. Nothing stuck to the oiled hand. It was better than a Teflon coating!
I'm so excited because we all love meatballs. There are so many flavor combos and sauce possibilities. Frederick likes meatballs with a sweet and sour sauce in his school lunch. I love having cooked meatballs in the freezer to drop into soups and stews.
Now we can have meatballs with far less aggravation.
Cooking is such an adventure. There is always something new to learn!
Related posts:
You might also enjoy: