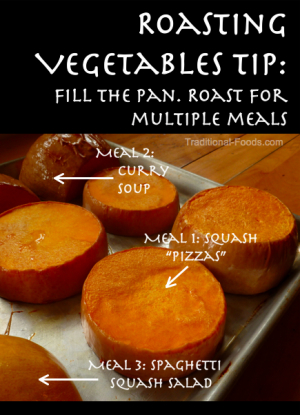 If you are going to roast vegetables, roast a whole pan of them to take advantage of your hot oven. It takes very little more time or energy to roast three squash as opposed to one. Make plans to fill a whole baking sheet.
In the picture provided you see squash enough to supply three meals. The spaghetti squash was turned into a warm salad served on the same day as the roasting. The butternut discs were turned into squash pizzas the next day. The two bulbous parts of the butternut provided puree for a curried soup. Just a bit of advanced planning made our second and third meals easy to execute.
You could load the pan with large hunks of winter squash that you then puree and freeze in usable amounts. You will be using a lot more of this healthy vegetable if you have usable amounts of it close at hand.
If you salivate over the flavor of roasted garlic, roast a head or two or three every time you roast a pan of veggies. Garlic takes so little space, it's an easy addition. Even if you do not plan to use the garlic immediately, you will appreciate having it in the fridge for sauces, dressings, salad, dips, canapes, and more.
Related posts:
You might also enjoy: