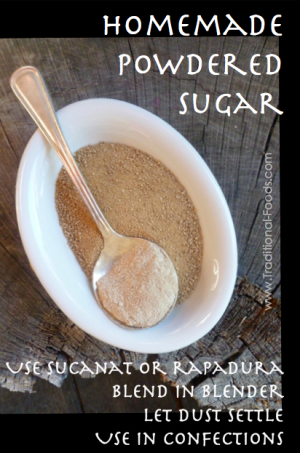 This tip is so simple it hardly deserves a post, but it may inspire you to use a bit of whole sugar in your confection projects.
We are used to white sugar powdered sugar and, of course, if you are making white frosting you probably want to stick with a powdered white sugar, but for added nutrition try making your own brown powdered sugar.
Simple Homemade Powdered Sugar
Place up to two cups of Sucanat, Rapadura, or your favorite whole sugar in a blender.
Blend.
Leave the blender lid on for a while as the sugar settles, lest a sugar plume float across your kitchen.
If you need more than two cups and you are using a regular blender, plan to make two cups at a time. It will be difficult to grind more than two cups in a non-commercial kitchen blender.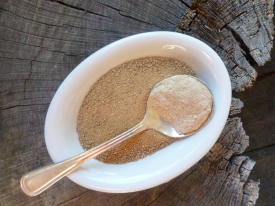 If you have problems with the sugar clumping or not integrating well into your recipe, add one tablespoon of corn starch to each cup of sugar. If you plan to store the sugar (which we do not do), use the corn starch.
Related posts:
You might also enjoy: