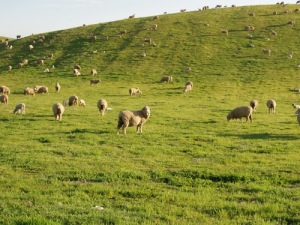 Lamb is a distinct and tasty meat, an iron rich food, and even high in Omega 3 fatty acids if it comes from sheep that have been raised on pasture. Most people have heard of "grass fed" meats and know the benefits — the Omega 3s, the lean nature of the meat, and the lack of a feed lot.
As it turns out, most commercially-raised lamb in the United States is raised on grass. The sheep in the picture are part of commercial lamb stock — a picture taken in central California in the spring time, not far from our home.
We have regularly seen sales on lamb in April and rarely see it otherwise. Now is the time to look for it. Buy it when you see it.
You can find lamb by watching supermarket circulars, but we also like to drop in on our area supermarkets, looking for what is called here the "manager's special." This is a code word for "this meat is close to its sell date and we have to sell it cheap."
With lamb in the store this season, you may find lamb as a manager's special. The manager's special may be a third of the regular price of the meat. We live for finding lamb as the manager's special.
If you happen to get lucky and find some great meat as a manager's special (or equivalent), you must remember this: DO NOT walk around the store wondering if you should buy it. Put it in your cart and then wander around the store wondering. If you decide not to buy it, you can take it back to the shelf. If you spend time thinking about it, I might be the one with the cart right behind you ready to buy the entire supply.

Related posts:
You might also enjoy: