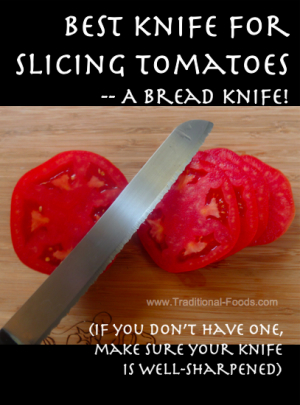 I remember vividly being at a graduate school picnic back in the early 1990s and asked to slice tomatoes — with a steak knife. It appeared that no one else even knew where to start with any kind of knife. I remember looking down at the knife and shaking my head. I did get my job done, but the slices did not meet my standard.
An extremely sharp knife will slice a tomato easily, but I usually reach for my bread knife first. You can maintain good control and get a nice, clean slice from even the more ripe tomatoes.
A bread knife is your best bet for a nicely sliced tomato and you are less likely to slice off your finger than you are with an extremely sharp knife.
Related posts:
You might also enjoy: