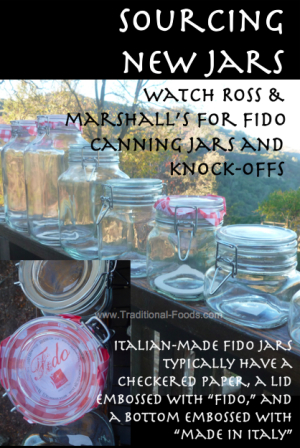 We have written about sourcing pantry jars from old pickle jars and we actually just landed nine one-gallon pickle jars at a thrift store, but the easiest way to fill your pantry with decent glass storage containers is certainly hunting them down new.
I've had luck with half-gallon size canning jars at Michael's — other well-stocked craft stores are probably good bets as well. As a step up from typical canning jars are the glass jars with clasp lids. Keep an eye out in stores like Ross and Marshall's and you will likely stock your pantry with any size that you need.
You may even get lucky and find a very well-priced Fido jar, one of the better clasp jars that some people use as fermentation vessels. If you are into fermentation, a Fido jar is several steps up from a canning jar because it does allow gasses to escape even when it is latched. There are many Fido knock-offs, so you will want to look at the lid for the word "Fido" or on the bottom for "Made in Italy," both embossed in glass.
Related posts:
You might also enjoy: