Sponges can get nasty in a kitchen. Even if you keep your sponge as dry as possible, wringing it out regularly, it is still a sponge and spends much of its like wet. Wet attracts stink in the form of mold.
You can replace your sponges regularly as they get stinky or you can kill the mold:
boil your sponges.
Boil sponges and any kind of scrubber. I boil mine together in a sauce pan as I am finishing kitchen clean-up once a week or more. After they have boiled for a few minutes, I dump out the water and add cold water to the sponges to cool them down. You obviously do not want to touch two-hundred degree sponges. Let them cool before wringing them out.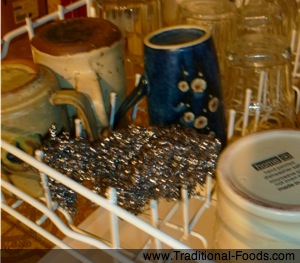 You can also put scrubbers in your dishwasher. The sponges do not work as well in the dishwasher, but scrubbers work like a charm.
If you do boil your sponges, they will last longer stink-free but the boiling will break down the sponge fibers. You will find the sponge starting to fall apart after three or four boilings, so you would not want to do it daily, but certainly regularly. Of course. if you have just cleaned up a kitchen full of raw chicken, that would be a good time to boil the sponge.
Related posts:
You might also enjoy: