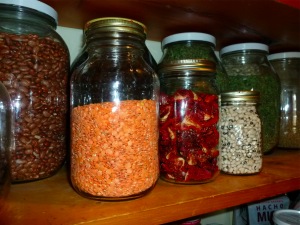 Back in the 1970s, my mom grew herbs in her large organic garden and dried them for tea and salt blends which she sold at craft fairs. She needed a way to store the herbs and she needed the solution to be cheap. As it was, she was living on a shoe string household budget and enlisting cheap child labor to help with the herb business. (*Raises hand.*)
Mom asked a local liquor store for their empty gallon-sized jars from which they sold pickles and pickled pigs feet. The store owner would have thrown out the jars anyway and was happy to have someone to take them off his hands.
One summer I helped scrub dozens of foul-smelling jars. I scrubbed the jars and lids in the yard and left them in the sun for about a month until the pigs feet and pickle stink disappeared. (The lids will hang onto the stink a bit longer than the jars.)
My mom and I still share a pantry some thirty-plus years later, living on a five acre property in the Sequoia National Forest and we still have many of those jars in our collection. A jar may break every couple of years but, for the most part, these jars are about as close to a life-time storage solution as you can get.
And they were cheap. They required only a trip to the liquor store and free child labor.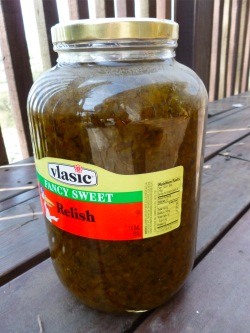 Last week I happened upon a relish jar that was long-past expiration. I dumped out the contents and cleaned it up for my pantry, thanking God that it was a relish jar and not a jar of pickled pigs feet.
Where to Find Your Jars
With your "used jar" strategy in mind, keep your eyes peeled, especially for these sorts of opportunities:
An ethnic market that sells pickled pigs feet (or fill in your favorite pickled item here) right out of the jar.
Gas stations, corner markets, and ethnic grocery stores that sell pickles out of the jar.
Organizations (churches, schools, PTA) buying a condiment in bulk for an event. You can definitely score plastic jars this way and use the same sun-bathing clean-up method if the jar has an odor. Glass jars are harder to come by for condiments, but the relish jar in this post suggests it is still possible to find them.
When you find an opportunity, just ask.
My mom and I were at a fruit stand last week and I simply made a subtle gesture toward a half-empty pickle jar. There is no need for words when you are in the company of a fellow jar scavenger. The stand was filled with customers so we didn't do the ask, but she returned days later only to find the jar had been promised to someone else.
We're glad we're not the only jar scavengers in the county.
Related posts:
You might also enjoy: