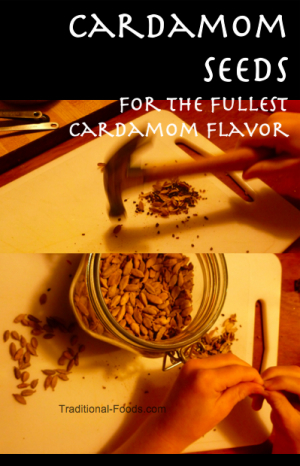 I had gone through a bottle or two of ground cardamon when I decided it was a total waste of money. The price was high. The flavor was very low. For years I baked without it. When a recipe called for ground cardamon I just added a sprinkle of nutmeg. That worked for me.
Then I did a little research on cardamon and realized why the powdered stuff in the little jars is so lifeless: it's diluted and old. Reading comments in forums about cardamon in baked goods, I knew I was missing something. People who have been raised with cardamon rave about it, go to lengths to get it, and go to some trouble to free it from its captivity.
Here's the bottom line: the cardamon flavor is in the very tiny black seeds inside the cardamon pod. What ends up in the little jars at the grocery is a grinding up of pods and seeds together. This dilutes the flavor considerably. Of course, once the seeds are ground their oil dissipates quickly.
I had a recipe for applesauce bread calling for cardamon and I decided to take the extra bit of time to free up some little black seeds. With cardamon pods on a cutting board, whacking the pods with a small craft hammer, I thought I was surely crazy going to this trouble. Then the scent of the seeds began rising and I knew what people were raving about in the forums. The resulting apple sauce bread came from a new world of flavor!
Getting Cardamom Seeds Out Of Cardamom Pods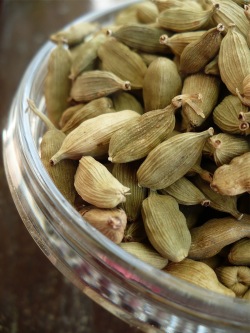 The process I used to free up my cardamom seeds was simple. My grandson even did most of the work.
Place a small handful of cardamon pods on a cutting board.
Give each one a good whack with a hammer.
After all the pods are cracked open, work the demolition pile with your hand. Squeeze the pods and ruffle them around to get the black seeds to fall out. You will end up with the heavy little seeds at the bottom of the pile and the lighter pod coverings on top.
Carefully lift the lightweight scraps from the top, leaving the seeds. Clean it up as best you can.
Using your hammer, gently tap the seeds. You want them ground as well as possible. You could do this in a coffee grinder designated for spices. Leaving the seeds whole is an option, but when you bite into a large seed in a baked good, the intense flavor can overwhelm your sweet item.
Prepare only as many seeds as you plan to use that day. The flavor quickly dissipates and you will not get the full impact of what you worked for.
Where to Buy Cardamom Pods & Cardamom Seeds
Whole cardamon pods are available in ethnic groceries like Middle Eastern and Indian. The pods are usually very fresh and the prices so much better than at the big name groceries. You may find seeds as well. When you find a good source, get enough cardamon to last you six months to a year. After that you need a fresh supply. Store the pods in glass with a tight-fitting lid resting in a cool dark corner.
If you are shopping online, our favorite vendor for kitchen spices carries both the cardamom pods and seeds. You can find them here.
Related posts:
You might also enjoy: