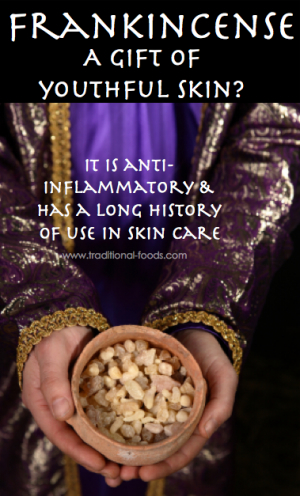 Getting in the spirit of the holidays here at the Traditional Foods site, we have to ask: If the three wise men carried gifts to the Baby Jesus, including gold, frankincense, and myrrh, are frankincense and myrrh still gold-like gifts today? What would we do with them? Do we care?
Both frankincense and myrrh have long histories of use in rituals, religious and otherwise. Egyptians used myrrh to embalm their dead. More currently, if you attend liturgical church services (particularly Roman Catholic and Orthodox traditions) you know the distinct fragrance of frankincense and myrrh. Outside of a church service, is there really any use for these oils to promote a healthy lifestyle?
I thought "no" until I ran into a frankincense vendor at a trade show which later sent me on a literature search of these oils. The research on myrrh for health is extremely slim, but there is certainly a nugget or two on frankincense.
There is actually some evidence that frankincense is anti-inflammatory and supports and anti-inflammatory lifestyle. In a 2008 article, the author reviews the research on frankincense and find results that are "encouraging but not compelling" — the research on frankincense is fairly slim, but results suggest that using the extract could improve conditions associated with inflammation, such as arthritis (Ernst 2008). Perhaps more research would lead to more compelling evidence.
In another 2008 study in the Journal of Environmental Toxicology, the authors report an experiment on hairless mice in which they age the skin and then apply various treatments. The frankincense treatment did appear to improve aging skin. The authors conclude: "The application of frankincense oil to the skin aging animal model reduced both the generation of free radicals and the damage of skin tissues."
This skin care study supports practice over the years of using frankincense for skin care, including for healing wounds and improving acne.
Are we bullish on this oil? Yes, especially in December.
Using Frankincense Oil
First, with using any new oil, be mindful of your reactions. If you do react badly to the oil, discontinue its use. You could be allergic and there is no reason to create new problems for yourself. The two primary uses for frankincense with some research basis are to reduce inflammation and to improve the condition of your skin. With these goals in mind, you can use frankincense in a number of ways.
Frankincense Body Oil
Using frankincense to reduce inflammation, make your own frankincense body oil. You can use it all over your body or focus it in inflamed areas. You can buy oils made for you but it is so simple to make it yourself that you might as well save on the cost. Buy a carrier oil as a base and add frankincense oil to it. To get the most out of your frankincense, we recommend jojoba oil as a carrier because it helps the frankincense penetrate more deeply (5 drops frankincense in one ounce of jojoba is a good start). See resources below for frankincense and jojoba oils.
Use frankincense oil to rub into skin to reduce muscle and joint soreness.
Frankincense Bath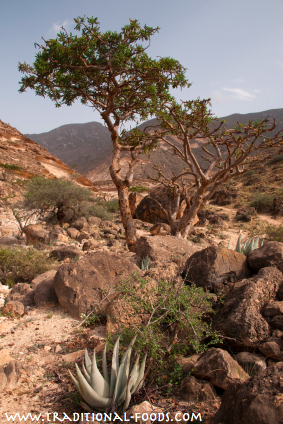 Simply add a few drops of frankincense essential oil to your warm bath water to relieve inflammation.
Frankincense Scrub
Combine one cup of sugar, one cup of coconut oil (or another favorite oil), and five drops of frankincense oil. Use the scrub on your feet and legs to combat dry skin but also to improve inflammation. You may use it on areas of skin irritation if the effected area can handle being "scrubbed."
Breathing In Frankincense: Use a Nebulizer
Breathing in frankincense could reduce inflammation and promote overall wellness. For best results, you will want to purchase a nebulizer which diffuses the oil into the air in your room. A nebulizer requires a bit of start-up cash but your results will be better. The oil will last longer and will be more effective. Follow the instructions on the nebulizer for use. See below for the best deals on frankincense oil and for a good nebulizer.
Buying Frankincense Oil, Jojoba Oil, or a Nebulizer
When purchasing any essential oil, quality does matter and it is important to buy from a vendor that is reputable. If you have never used frankincense oil before, you might also want to start by buying an ounce or two. If it works for you, buy a larger four or eight ounce bottle (or even larger).
To buy in bulk for the best saving, we recommend this vendor. You can also find a collection of herbs, jojoba oil, coconut oil, and other carrier oils making this a one-stop shop for your lavender concoctions. The prices and quality are excellent. They carry an excellent nebulizer as well (see here).
Citations
Ernst, E. "Frankincense: systematic review." Bmj 337 (2008): a2813. (Here)
Choi, Oi-Sook, et al. "Inhibition Effects of Frankincense Oil on Skin Aging (II): Focussed on Histological Observation." Journal of Environmental Toxicology 23.2 (2008): 129-138. (Here)
Related posts:
You might also enjoy: